Archive for June, 2007
Sometimes you know why people are where they are and that's well deserved. Take Larry Page, Google's Co-Founder who gave a talk in February this year. As Larry being a PhD-droptout from Stanford University, his traits are very much that of a scientiest which you feel across the entire speech. If you got an hour and eight minutes, skip the daily soap and check this out:
Larry Page as the Übernerd is certainly not as a compeliing speaker as for instance Bill Clinton, yet what he has to say is pretty powerful. He talks about how Google as a company basically evolved by accident from a scientific project and how this could serve as an example for many other areas. What was critical in his view is to combine scientific excellence with entrepreneurial zest, business acumen and marketing focus. He moved on to talk about lots of problems that could and should be worked on from a scientific perspective in order to then build scale in the marketplace. One of his personal issues of interest is obviously climate change and green energy. He quotes his "favourite statistic" on the solar power that goes down per year in the desert of Nevada per quare mile – more or less the area that a nuclear power occupies. And it turns out that basically the amount of energy delivered as solar heat from the former equals that of nuclear heat from the latter.
Interesting also to follow Larry in order to get into the mindset how Google as an organization works on specifically defined problems: with small teams of around 10 people, with the experience to deliver the best results. During the Q&A session a lady from the audience wants to know how applied science could help building jobs. In a polite way, Larry defies the inner logic of the question by retorting "building jobs is not the key metric we should look at". Rather he suggests, we should imagine a state of happyness in which we strive to live and subsequently build our capabilities around it. As an example he mentions that there were hardly any more jobs in U.S.-agriculture compared to a few decades ago, "and we still have enough to eat." Indeed, that's the best pleading for relentless structural reform through innovation propelled by a higher cause.
On my afternoon walk though Bangalore today, I found two definitely worthwhile "T.I.I.s" (=this is India). This one is a very common view everywhere in terms of the state of a sidewalk. In broader terms that's one example of the "infrastructure problem" everybody is talking about. In India therefore you always, always watch you step. I did not fall in such a hole yet, but twice I bent my ankle badly by not looking where I walk.
And this one is a T.I.I. big time. For our parents in Europe during their childhood Sunday was most often "bathing day" where you would get your once a week proper washing. Today in Bangalore on the main Residency Road it seemed to be "Garbage Burning Day".
The vibes of the pictures tend to inspire me with R. Kelly's song "Burn it up!":
Burn it up
Girl make it hot like the roof is on fire
Burn it up
Girl the way you dance you are my one desire
Come on
So hot you're on fire (come on!)
Have a good start into the new week.
Well, well, as apparently the "T.I.I." (=This is India) part finds some likening, I have my camera a bit more often with me than usually. And the good thing is that you really don't have to stroll around too long before you spot your next motive. So it happend "JATC" (=just around the corner) that I found this one: T.I.I.
T.I.I. because of three reasons:
* The state of the building site in the back and the nice blue gift-wrap as coverage in the front
* The guy working without any safety-precausions on the side of the highly frequented Brigade Road with very rudimentary equipment
* Last, but not least, the classic: another guy just standing there, staring and watching. Usually, the ratio of work:stare is 1:3
T.I.I.
A nice network that has emerged around a year ago or so is the Bangalore Expat Club and today there was an event in the Kerala-style restaurant Karavalli. It was supposed to be a "cooking class", it was fun, but also a bit bizzare. We were around 25 people ("the audience") and then there was the chef ("the chef") from the Taj Gateway where the restaurant is located. The easy and involving way would have been just to let us stand around the chef and watch. But, maybe in a bit of T.I.I., we had one of the conference rooms, proper seating, the chef on stage with a professional wireless mic on his collar, a screen and a live camera showing what is going on there. Yet, it was a bit of a strange experience.
After that, we went into Karavalli and had some fantastic food where I opted for the Fish Thali. Thalis are small portions from a variety of different dishes.
Also, I had a very interesting conversation with a lady to my left from the Netherlands who is working in the chicken breeding industry. In my curious ways, I wanted to know everything and learnt that this was a quite complex task of crossing the right chicken which spreads several generations, permutations and even having chicken with some specific features (e.g. strong breast) being treated as the intellectual property of a farm that can be sold to other farms in non-competing markets. Great stuff, especially when you get to know the numbers that they are running per week. Would be cool if it was my business, so I could show off with saying: "I got 7 million chicks in da house – RESPECT! " ;-)
And finally, this is a billboard which advertises for a movie in Kannada, the local language of the State of Karnataka where Bangalore is the capital. And that's what South Indian movie heroes look like. T.I.I.
In my short stay in Germany this week, the day started very happy. In spite of the hefty thunderstorm yesterday, the weather in the morning was excellent so Sönke Strahmann ("Der Strahmanninger") and myself ("Der Seifertinger") went for a beautiful ride through the Alpes from Augsburg Airport and back.
On Flight Level 110 we passed by the Zugspitze, Germany's hightest mountain with 2962 meters.
Then it went a little further east to the Walchensee, here in a left bank angle of the plane:
Then over Murnau with a prominent Trauma Clinic where Steffi, a friend of mine, works as a radiologist.
And here we are, in the Cockpit. I hope the pictures does not appear overly gay ;-)
And finally over the city of Munich a nice view straight into the Prinzregentenstraße Maximilianstraße in easterly direction:
Oliver Nieder from Munich commented on my last entry today, with some referrers to some pictures from Flickr he took in Delhi. As the pictures don't show in the comment-function beneath, here once again in the main text. Thanks, OIiver, for your contribution :-) René
++++++++++++++++++++++
Hi Rene
I really like your T.I.I -Thing. You should do a periodic column on that… I took these Pics in Delhi – maybe matching this context…


in case of fire: cool down

plug and play
Greeting from Germany,
Oliver
Since I watched the movie "Blood Diamond" with slim&trim Leonardo DiCaprio where the profound explanation for culturally significant occurences in Africa is T.I.A (=This is Africa), I have adopted the "T.I.I." accordingly for, guess what, India. Last Saturday, for example, a German guy who has been only very briefly in India complained about something in Bangalore being "not logical". I burst out in laughter and commented shortly "T.I.I." It's great and it works on sooo many occasions.
Marco Versace just sent me a link to this picture "hard had" as obviously a substitue for a helmet, taken from Wulfweard the White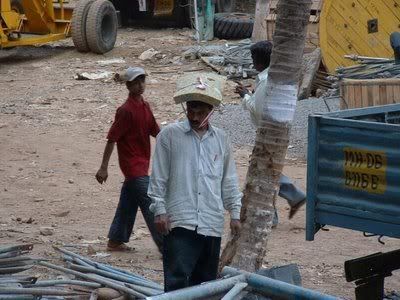 –> T.I.I. (I promise to take a few picture from an Indian building site with women carrying the soil on their heads and post it here soon).
Seeing many guys, and no girls, at one spot is very common, like here below on Juhu Beach in Bombay. Especially, when they are holding hands or are in a hug and stare intensely at you.
–> Again here: T.I.I.
To conclude: T.I.I., an excellent and ever applicable framework for all situations in life on the Subcontinent. Spread the word ;-)
Weekends in Banglore are always good to consider an outbreak. So today it went 40 km north of the city to Angsana Spa, a chain with various properties in Asia. The impression was overall a bit mixed. Let's start with the positives:
– Very well maintained; an enjoyable oasis to evade the chaos of the big city
– Excellent cuisine for the lunch on a buffet
– Very professional and relaxing Ayurveda massage
On the flipside of life:
– The property is certainly no architectural pearl. WIth its grey concrete construction it reminded me occasionally to my vacations as a little boy in socialist Yougoslavia. But anyway, that's really the least to complain.
And then we have the "usual suspects" in terms of negatives in India:
– Idiotic booking: In order to book a daystay and a massage, you need to call two different numbers and it takes them ages to actually get it done. Why don't they have a single point of contact?
– The staff tends to be friendly, but pretty useless: E.g. When you check in, 2 different people would jump at you with high attention to be a second later be distracted by three phone calls and then forget about you and your intention to just pay and move on to the pool.
– No systematic service at the pool: Why does noone roam around and ask guests if they wanted something to drink? Instead you have to scream across the pool for your order: 2 lassies. It took them 1 hour (!), no exaggeration, to come up with them. At that time we were about to depart and refused to take and to pay them. For that you get the well known stupid stares in return.
I hope not to appear overly critical or decadent as an overly demanding customer. I just try to put myself into the shoes that this was my spa, my entrepreneurial venture, and I would have to observe such shortcomings. I would surely kick asses in a big way.
On the funny side, to conclude, before going to the Ayurveda massage, we were admitted to the doctor. A lady, in a conservative blue-white Sawar Kameez and a straight parting in her tighly knotted hair, who enquired about some possible medical complications. And towards my girl-friend, in particular, if she was on her "menstrual cycle" or if she was "spotting". My girl-friend did not understand "spotting" (=deer spotting in the forest?? – LOL ), asked back "do you mean bleeding", which extended the discussion on the topic more than planned and which made the lady increasingly embarrassed, nervious and red beneath her dark skin. (After all, anything around "sex" in the broadest sense in India is not treated at all verbally or shortened to the necessary minimum.)
And when I finally added that I was not on my "menstrual cycle" and neither "spotting", we believed she would immediately faint into unconsciousiousness … T.I.I. = This is India! :-)
These days trying out Mediterranean food in Bangalore and going through a triple sequence: On Thursday, we went to Sunny's on Vittal Mallya Road which has grown from a smaller outfit on Lavelle Road around the corner into a real fine and stylish place. And the food kept what it was always known for: delicious. Same holds true for the service. After some shrimp and oyster starters, I had some steak "medium rare" which left a perfect impression. And the "worst" are the desserts what Sunny's is known for: beyond imagination, e.g. the cheese cake.
Yesterday, then, Fiorano on 100 ft Road in Koramangala which I used to have in good memory from app. 9 months ago. Unfortunately, since the Italian chef Massimiliano left for Bombay, this place is no longer what it used to be. It's not bad, but if you know how Italian pasta is supposed to taste, then you won't really feel impressed. The service is friendly, but occasionally useless. (If you want to read a more positive review, check out this blog posting from Bangalorebelly, or an extremely negative one here). Today, we are going to try Olive Beach (great article about it the New York Times here, just around the corner where I live. From two vistits, I remember it to be a very good dining experience. Another good thing, from there it's just a 1 min walk to "Fuga" to end the Saturday Night Fever with clubbing. ("End" in the litteral sense which equals the curfew at 11.30 pm sharp :-(
After yesterday's dinner in Fiorano we headed to the "Forum"-mall in Koramangala.
We watched the movie Shootout at Lokhandwala, based on a true story about an "encounter" between the Mumbai Police and an underworld gang in 1991. The best, and I am ashamed that I haven't done that before, is the "Gold Class" of the PVR CInemas which is very much comparable of flying First Class on a long haul travel. Not just plenty of room, but an electrically reclinable armchair which basically – if you choose to do so – extends to a horizontal bed. In that position one feels better than home, especially as the button for the bell would call the waiter to take your orders for drinks and food. Food in this case doesn't mean just pop-corn, but the full range of typical Indian starters. Really impressive such an experience which I never saw anywhere in the west. I guess there the ticket would have to cost around EUR 50.- to make it profitable business, in Bangalore it is Rs. 450/- (app. 8 EUR) – drinks and food extra.
An discussion I had these days about malls in India with senior executives of retails brands brought insightful details to the surface. As the "Forum" mentioned above carries on its logo "Your time. Your space.", it is really the "space" that the Indian consumer seems to appreciate. Go into one of these malls, it is by any standards extremely crowded. On the other hand, sales per visitor tend to be extremely low. From my observation, this is due to such a mall being a sort of India that everyone longs for: clean, orderly, disciplined. And people seem to enjoy just wander around in such a "You are now leaving the Indian sector"-environment. It is not really a concrete intention from what I understood in the discussions, but it would even make sense to charge people an entry-fee for malls. At least one which could be offset against purchases at a minimum volume.
Interesting stuff happening, as usual with strong amplitudes between ups and downs. And to paraphrase from the movie "Blood Diamond". T.I.I. = This is India :-)
The beauty of the internet is not just information recovery, i.e. finding something you are right now looking for, but equally information recovery, i.e. thanks to purposeful filters coming across something relevant of interest. In that sense, I thought I share today this video on YouTube which shows a group of activists protesting against sex education in Karnataka-schools:
The protest is directed in broader terms against "western culture of free sex". This type of scapegoat, as vaguely defined, is not really new and has been brought up at whenever it suits many times. Looking at the facts, one can well raise an eyebrow. According to the CIA Factbook, the number of people in India living with HIV/AIDS amounts to over 5 mn. The number is from 2001, yet recent sources I have read describe a similar level. Putting that into perspective to the 1.1 bn people, it makes a solid 5 % rate on the entire population.
Germany, as a comparison and certainly a representative of a "western culture" has only around 0.6 % of the population carrying the virus. And sex education has been around in Germany for quite some time. A coincidence or not?
The great extended weekend in Kuala Lumpur is over. Now back to work in Bangalore. And how great it has been! I didn't expect Malaysia to be such a beautiful place (judging from the impression of KL). Being a Muslim country, I expected something rather restrained and closed. But, by contrast, an amazing model of blending heritage with modernity into a super-functioning infrastructure. The Petronas Towers being one example of it.
When one lives more than three years in India and comes to another place to witness how infstructure works, inevitably the question pops up: Why can they, and why can't India? But also in comparison to other places, Munich pales in the comparison to KL of an efficient check-in with non-stop transport from the central station to an airport which is 78 km outside. Anyway, Kuala Lumpur is a fantastic place to hang out, relax, stay in excellent hotels for unexpensive money, go shopping and especially find an amazing mix of culinary influences.
The entire picture set is here on my Flickr-account.